Hanks Anuku is by all accounts one of the most well-known, beloved, and respected actors from the early 2000s.
He dominated screens all over Nigerian homes, churches, and salons with blockbuster movies including Broad Daylight, Rambo, Desperate Ambition, and most popular Django which demanded a part 2 because of how good it was.
Hanks Anuku was the name on everybody's lips. He was our criminal. Our bad boy original. And then, he completely disappeared from the public eye.
Everybody asked the same question – "What Happened to Hanks Anuku?"
Well, today Gist Africa is finally revealing to you  what EXACTLY happened to Hanks Anuku and the reason why he completely left Nollywood.
Sad Truth About What Really Happened To Hanks Anuku
As already established, Nigerian actor Hanks Anuku was on the up and coming and was experiencing a catastrophic rise in fame and commercial success in Nigeria but then left the scene.
Why?
Well, the sad truth is that the actor left the industry because of Nigeria. You see, if you're a Nigerian you know that as much as there is so much to love about the country, it can be very frustrating a lot of times. Having to still deal with some very basic amenities like good electricity, good roads, etc. As much success as Hanks Anuku had achieved, he didn't find living in Nigeria conducive and so decided to leave the country and relocate over to Ghana with himself and his family.
Speaking on his decision to leave in an interview with Ghana Creative Arts, Hanks said:
First of all, my Ghanaian name is Nana Kwame Fiifi Kakra Anuku. I want you to know that I have naturalized as a Ghanaian and I am going to live here to help Ghanaians. So you can address me as Nana Kwame or Kakra Fiifi.
I seek peace and I have found peace living among the beautiful people of Ghana. I think I should just be here, it's a directive from God and what God says is what I do.
I have all the grassroots as God has said even in Nigeria, I am well known than all these guys. I had to leave Nigeria because of all the troubles, turmoils, crisis, anarchy. I don't like to see youths killed over money.
Nobody should think I have forgotten Nigeria, my family and kids are in Nigeria. In the meantime, they are in London but they will return to Nigeria before coming to Ghana, where I will be resettled.
As time goes on, I will definitely help Nigerians but I need them to have a peaceful atmosphere first because where you have crisis, you can never find development. I seek peace all the time because anyone who has blessed feet has peace in their heart.
Since leaving the country and relocating over to Ghana, it seems the actor has found the peace he so desperately craved.
As recently as 2 days ago on Valentine's Day, the beloved actor popped up on social media to post a Happy Valentine's Day message to his fans along with a new picture of himself – his first posted picture in over 6 months.
His kids also look hail and hearty.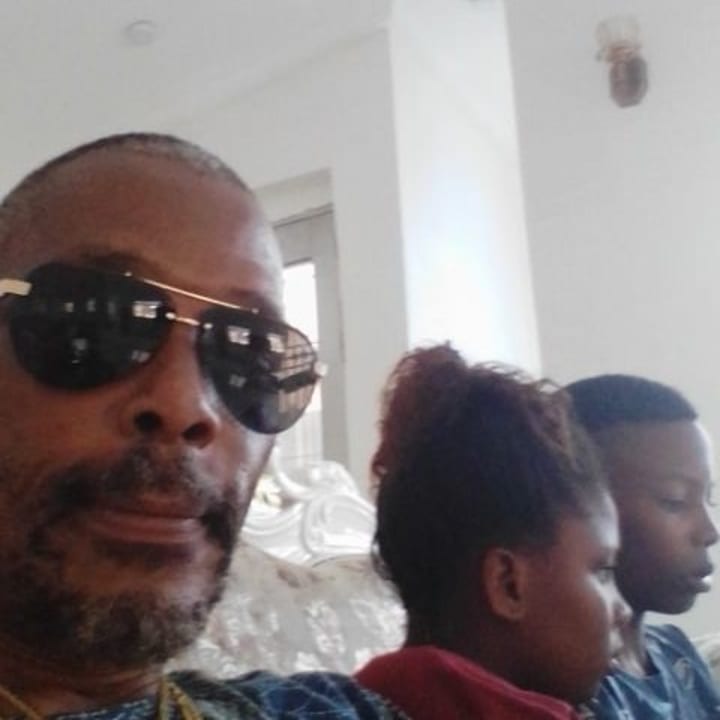 Although it's so sad he had to leave Nollywood and Nigeria, it's nice to see him still doing well and being hail and hearty.